Warner Bros. World Abu Dhabi: Reinventing the movie park for the 21st Century
How do you top the world's largest indoor theme park? By building an even bigger one, of course. That's what destination developer Miral has done in Abu Dhabi. Blooloop profiles Warner Bros. World Abu Dhabi, the latest showstopper at Yas Island. 
This article was originally published on blooloop.com.
The UAE's (United Arab Emirates) newest theme park opened to the public on July 25, following an inauguration two days earlier. The 1.65 million square feet (153,000 square metres) facility represents an investment equivalent to US$1 billion.
Yas Island
They don't do things by halves at Yas Island. Located on the northeast side of Abu Dhabi's mainland, 10 minutes from its international airport, the leisure and entertainment hub first rose to prominence in 2009 with the opening of the Yas Marina Circuit, home of the Abu Dhabi Grand Prix. The spirit of Formula 1 was celebrated again a year later with the launch of Ferrari World Abu Dhabi. At the time it was billed as the world's biggest indoor theme park. At 240km/h, its signature Formula Rossa ride remains the planet's fastest roller coaster.
A passion for super heroes
Yas Waterworld, which opened in 2013, has been named as one of the best waterparks in the world. It's certainly one of the most ambitious and expensive. Then there's Yas Mall, which sits between Ferrari World and Warner Bros. World. It's the largest mall in Abu Dhabi, and by definition very large indeed.
All three theme parks are operated by Farah Experiences. As a movie park, Yas Island's third theme park clearly adds something fresh to the mix. Yet the local press has suggested that this particular kind of park wouldn't have arrived in the Emirate were it not for a passion of the Miral chairman. You see, Mohammed Khalifa Al Mubarak, who also chairs the Abu Dhabi Tourism and Culture Authority, is super into super heroes.
"He's a visionary leader," says Peter van Roden, senior vice-president of global themed entertainment for Warner Bros. Consumer Products. "He is also this huge comic book and IP fan; the perfect partner."
Step through the shield into an immersive world
When guests make their way through the park's iconic Warner Bros. shield, they will be able to explore six themed zones. All in air-conditioned comfort. Warner Bros. Plaza is there to welcome them. There's also Gotham City, Metropolis (pictured below), Cartoon Junction, Bedrock and Dynamite Gulch.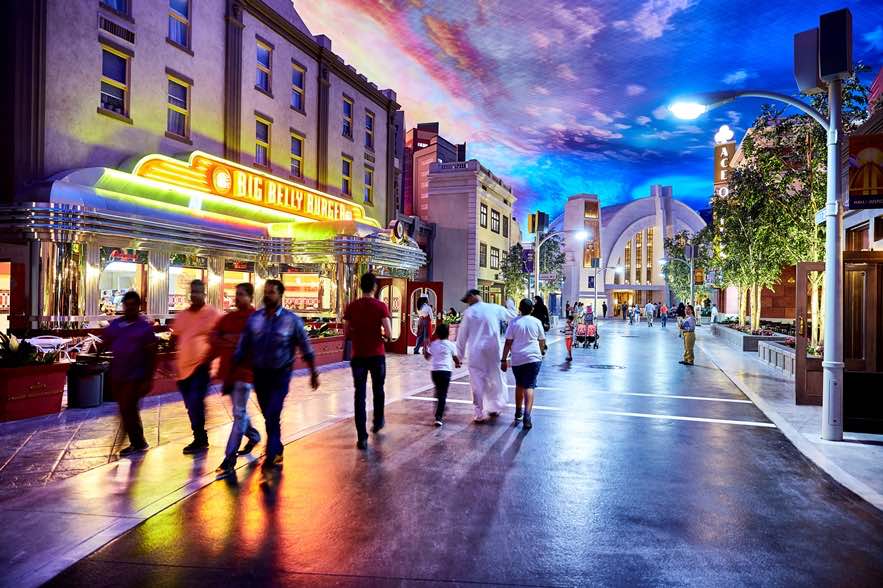 Spread across these immersive lands are 29 state-of-the-art rides and attractions, featuring characters from DC Comics, Looney Tunes and Hanna-Barbera. A particular favourite of Al Mubarak is Superman.
Thinkwell, the LA-based global design and production agency, acted as creative lead from start to finish, bringing in several subcontractors as required. Among these was Wyatt Design, which served as key design consultant on several areas. LifeFormations created over 100 animatronic figures used in six attractions. Aspen Creations, based in Dubai, did the fabrication and installation on a number of areas including Warner Bros Plaza, Cartoon Junction, Bedrock, The Flintstones Bedrock River Adventure, Fast and Furry-ous, Bronto Burgers, Gotham City and The Riddler Revolution. Other suppliers included Animax Designs, Inc., Blur, Ears Up Sound Design, Electrosonic, GDE, Louis Berger, Smart Monkeys, Pixomondo, Pure Imagination and Ted King Entertainment.
Everything, including the park's two roller coasters and flume ride, is indoors. Unlike at Ferrari World, where four coasters escape outside. The vast building in which they are housed shimmers in a gold finish. In the UAE, you wouldn't expect anything less.
Warner Bros. – back in the themed entertainment business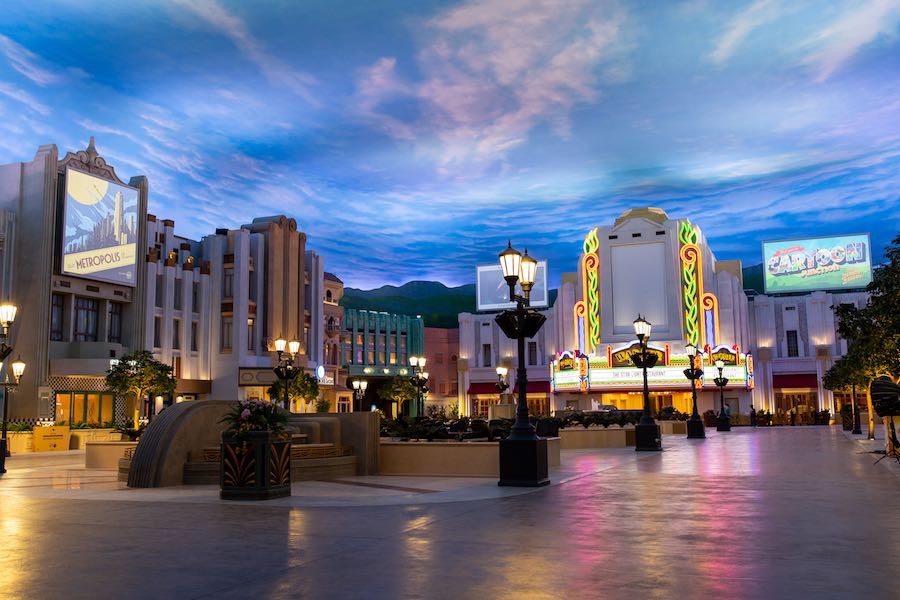 Making memories, not movies
Unlike a handful of earlier movie parks, or indeed Warner Bros. Studio Tour London (home of the Harry Potter backstage tour), you won't find any film-making going on at Warner Bros. World Abu Dhabi. Rather, this is an entertainment park that celebrates the silver screen and small screen intellectual properties within in. As families enjoy the richly-themed experiences and interact with the characters inside the park, they will surely make memories for many years to come. Yes, there will be selfies.
"This is not a 'behind-the-scenes' park, says Craig Hanna, chief creative officer at Thinkwell. "At Warner Bros. World Abu Dhabi we treat the characters as living and working in the park. Where would they live? Where would they eat and where do they work? That was the basis for the stories, rides, shows and attractions in the park."
Different moods
"There is such a mix of environments," says van Roden. "You move from this classic Warner Bros. Plaza and into the animation side. I think all of us have wanted to walk through Bedrock and meet The Flintstones some point. Dynamite Gulch is this cartoony kind of wild west, home to Road Runner and Wile E Coyote. Then you've got Cartoon Junction with this really bright, stylized sky and a beautiful Looney Tunes and Hanna-Barbera carousel.
"On the other side of Warner Bros. World Abu Dhabi is this really cool Metropolis. However it gets darker and darker as you move into Gotham where the DC Super-Villains have taken over. The different moods created inside each of these lands is incredible, and the lighting is absolutely stunning."
The indoor advantage
The prime reason for the park being indoors is obviously the local climate. "It's 109 degrees [Fahrenheit, 43°C] outside right now," said van Roden, speaking to Blooloop the weekend before opening. "Being able to walk into an air-conditioned box is a wonderful thing."
Yet in most movie parks, the majority of major attractions and pre-shows are already inside buildings. All Warner Bros. World has done is bring the other attractions and the themed environments that link them inside too. "That has been a huge advantage," says van Roden. "It gives the park this intimacy. We can really control the lighting, the sound, the ceiling heights; the way you transition between these immersive environments."
"Warner Bros. World Abu Dhabi is special," says Hanna. "We took advantage of the fact that we were indoors to fully immerse guests in worlds and stories in ways that can't be done outdoors. Like the perpetual night of Gotham, the continual 'hero hour' of Metropolis, or the always 'sunny' Cartoon Junction."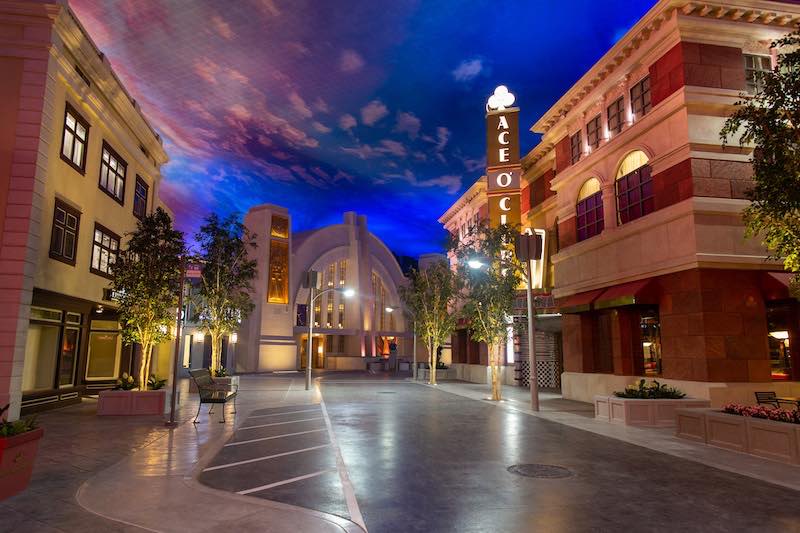 Storytelling techniques, technology and rides systems
Today's technology means Warner Bros. has been able to create an entirely different park to those that it put its name to in the latter part of the 20th Century.
"We determined the best mix for the broadest demographic and developed experiences with certain technologies and ride systems in mind," says Hanna. "For example, the dark rides Scooby-Doo: Museum of Mysteries, Ani-Mayhem and Justice League: Warworld Attacks take advantage of being trackless in ways never before seen in theme parks."
Dark rides – such as Ani-Mayhem – are a great way of telling stories. Another is Batman: Knight Flight, which marries a dark ride with a dynamic motion system and state-of-the-art special effects. Flying theatre fans will enjoy Green Lantern: Galactic Odyssey, which transports audiences to distant galaxies. Featuring an i-Ride system by Brogent Technologies, it's the first attraction of its kind to be supplied with 3D glasses.
There's a more traditional ride system at the heart of The Flintstones Bedrock River Adventure. Yet this family-friendly flume ride from Intamin is a lot of fun as it takes visitors on a voyage through prehistoric suburbia.
Even the park's roller coasters immerse riders in an adventure. Tom & Jerry's Swiss Cheese Spin is a spinning coaster that uses backlight effects to keep guests on the edge of their seat. Then there's Fast & Furry-ous, a suspended family coaster from Intamin, which van Roden particularly enjoys.
Every attraction tells a story
"Like each of the rides, Fast & Furry-ous has its own soundtrack. It's perfectly timed to the ride as Wile E Coyote chases Road Runner around the track. I'm laughing every time I get off it."
Van Roden also singles out The Riddler Revolution – pictured above – perhaps one of the most elaborately-themed Zamperla Disk'O Coaster installations ever. "You feel like you are going to hit the edge of this building as its breaks through. It's absolutely thrilling, and clearly one of the best rides in the park. The beauty of this park is it's not like we spent all the money on a few e-ticket attractions and then bought some off-the-shelf rides to fill in the gaps. Every single attraction has a story."
International audience and local considerations
In designing the park, Thinkwell considered the market and demographic makeup very carefully.
"We wanted to make sure the park appeals to an international audience," says Hanna. "Plus we looked at the attractions next door at Ferrari World to ensure this park was distinctive and balanced. Whether you're a local, an expat family, or a tourist there will be unique things to see, do and taste around every corner."
"There was a discussion about language very early on," says van Roden. "It was decided that English should be the base language, with Arabic supporting in certain areas such as signage and restaurants. That's because Yas Island as a destination attracts people from from Europe as well as to the East, so the common language is English."
A market within a four to five hour flight time
There were other considerations to make when it came to the local audience. "We have some wonderful prayer rooms, and have addressed all the appropriate things in terms of dress and diet. But overall there were very few adjustments to make. The UAE is quite forward-looking in terms of openness within the Middle East. This park is very much a statement of that."
Van Roden says the park's core market is expected to be those within a 100-200 mile (160-320km) radius, comfortably taking in all of the UAE. Yet European, Indian and South East Asian visitors are also in its sights. "The number of Chinese visitors who booked for opening day was remarkable. There is a strong market within that four to five hour flight time."
The UAE's increasingly diverse attraction mix
"I think increasingly the UAE is becoming a destination in itself," says van Roden. "People are coming to visit Abu Dhabi and Dubai together. We have some visionary leaders intent on building enough travel hooks between all the beaches, hotels and shopping malls. It's all about moving beyond being that weekend destination. Abu Dhabi is really adding to that with museums and culture. The Louvre, down the road from us, is absolutely mind-blowing."
And how long might Warner Bros. World keep families entertained?
"You know, I think this is an all-day affair if you are going to wander through it all, see everything and ride everything," declares van Roden. "It adds to the length of stay for Yas Island and the entire region."
A record breaking indoor theme park
Warner Bros. World Abu Dhabi snatches the title of world's largest indoor theme park from IMG Worlds of Adventure in Dubai, and Ferrari World Abu Dhabi before it. All three feature licensed intellectual property of one kind or another. So too do the trio of properties at Dubai Parks and Resorts, which launched in late 2016.
IMG's creator, the Ilyas & Mustafa Galadari Group subsequently announce
d plans to build an even bigger theme park. If it comes to fruition, the 2 million sq ft IMG World of Legends will be crammed with dozens of brands from multiple IP providers. Yet plans for a 20th Century Fox movie park in Dubai have been put on hold amid concerns about oversupply of parks in the region.
IP quality vs. quantity
Van Roden isn't worried that the UAE has gone OTT on IP. "I don't think it's overload," he says. "The way the UAE is developing as a destination, I think there is plenty of room to grow. We didn't come in and try to blow everybody out of the water by putting 20 IPs in there. We thought we are going to build the best theme park in the region. And I really think we've done that; up there with our friends at Disneyland Paris in terms of quality for EMEA [Europe, Middle East and Africa]."
"The DC film franchise is a juggernaut and continues to grow," he adds. "The great success of Wonder Woman, and we hope the future success of Aquaman and other films coming down the pipe, is really exciting for us."
Giving classic brands a new lease of life
Van Roden concedes the Looney Tunes and Hanna-Barbera brands might not be as powerful as they once were. But he believes they are a great fit for the park, and that their inclusion within Warner Bros. World can nurture a new generation of fans.
"These are iconic IPs that, even if they are not at the top of their media game, within the immersive environment of a theme park can help relaunch a brand in a lot of ways. That is actually part of our strategy."
Above all, "we have built a park to grow into, with partners who have an interest in the future. We are already having discussions about what we can do next."
That may include future attractions that are partially outdoors.
An Orlando model for the Middle East?
Peter van Roden joined Warner Bros. Consumer Products in March of 2016. He has more than two decades' experience in creating location-based entertainment – from touring exhibits to theme parks – for media companies including Sesame Workshop and National Geographic. So whilst everyone is still finding their feet in the UAE theme park market, he's certainly not green around the gills.
Craig Hanna, too, has a good pedigree in both themed entertainment and working with major film/TV brands. He works out of LA for goodness sake. So how does the Thinkwell executive rate the industry's potential in this particular corner of the Middle East?
"The UAE is trying to transform its economy. Its offer to tourists with an 'if you build it they will come' mentality is a bit like what Orlando did. Already the UAE is seeing huge growth in tourism. This park will give Yas Island a strong and distinctive competitive advantage. I'm not an economic advisor, so I can't look into my crystal ball and predict where the cap for these parks will be. However, I would ask you this: When will Orlando reach a critical mass of theme parks?"
About the construction of Warner Bros. World Abu Dhabi, van Roden says: "Construction is always an interesting thing, a life of compromise and communication. I will say Miral has been an incredible partner. You go into these big projects looking for someone who brings value. It's not just about coming along with a cheque book. And the value of Miral is that they are a world-class building and construction company. They have unbelievable people working for them; their resources and connections in the marketplace were second-to-none."
Finding a creative force to bring the park to life
Thinkwell was appointed to lead the design effort in Abu Dhabi following several previous Warner Bros collaborations, including Warner Bros. Studio Tour London.
"Disney has Imagineering, Universal has Universal Creative," says van Roden. "While we have the IP and storytelling expertise, we do not have that creative design house. So in partnering with an outside firm we looked for someone that could take on the roll of master designer and provide overall creative management. That's hard to find. Thinkwell brought that capability, and they were able to scale themselves up to take on a project like this."
"We have worked on this project for more than 10 years in one form or another," says the company's Craig Hanna. "Hundreds of Thinkwellians and hundreds more talented, creative and passionate people all over the world were involved. We have seen it through from blue sky concept through to opening, producing more than 2,300 original art files. These range from the park's map to can labels on props on shelves. We produced all shows, rides and attractions as creative and technical integration leaders. And we conceived, created and produced all media for the park. We are extremely proud of the work we've done on it. I think that passion shows everywhere you look."
Abu Dhabi's theme park future
The fate of Warner Bros. World Abu Dhabi now lies in the public's hands. Unlike many new theme parks, there was no soft opening period. There was, however, about a week of trial runs as invited guests, travel agents and military got to sample its delights. This proved invaluable to general manager Mark Gzellman and his team to fine tune operations. The inauguration event on July 23 was attended by Sheikh Mohammed bin Zayed, Crown Prince of Abu Dhabi and deputy supreme commander of the Armed Forces, and Sheikh Mohammed bin Rashid, vice-president and ruler of Dubai.
Van Roden says Warner Bros. World Abu Dhabi can comfortably accommodate anywhere between 4,000 and 7,000 guests per day. The annual attendance target is between 1.5 and 2 million. Now in its eighth year, Ferrari World Abu Dhabi entertains over a million. Yas Waterworld welcomed 550,000 visitors last year. So Warner Bros. World Abu Dhabi must work hard to achieve the visitor numbers expected of it. Its offer is arguably more inclusive though than Ferrari World.
The UAE's theme park capital?
A fourth theme park has already been announced by Miral for Yas Island. SeaWorld Abu Dhabi is set to open in 2022 and will be the first SeaWorld outside the USA and the first without orcas. This Abu Dhabi entertainment hub certainly looks like giving any competing operations in Dubai a run for their money. Can Abu Dhabi become not just the sovereign state's capital, but its theme park capital too?
Warner Bros. World Abu Dhabi – six immersive lands
Here are the themed zones that make up the world's largest indoor theme park, and the key attractions within them.
1. Warner Bros. Plaza
Art-Deco inspired building facades feature in this entrance portal to the rest of the park. Streets are lined with restaurants, cafes and themed shopping outlets. Among these, the Warner Bros. Studio Store and Superstar Souvenirs offer an exclusive range of Warner Bros. World Abu Dhabi apparel, collectibles and stationery. In addition, guests can enjoy Warner Bros. Cinema Spectacular. This symphonic celebration uses projection mapping to bring the Warner Bros film library to life.
2. Gotham City
Home to Batman, the caped crusader has vowed to crush the sinister criminal underworld
that lurks deep beneath this urban landscape. Rides and attractions as follows:
Batman: Knight Flight. An exhilarating dark ride featuring robotically controlled flying Batwing vehicled capable of sudden manoeuvres including drops, climbs, spins and rolls. This ride combines a high-tech flight simulator with immersive scenery and state-of-the-art special effects.
Riddler Revolution. A custom-themed Zamperla Disk'O Coaster. Supervillain Edward Nigma lures guests into a run-down shipping warehouse for a thrilling nightmare.
Scarecrow Scare Raid. A rousing flight experience with dramatic aerobatics and whirlwind barrel rolls.
The Joker's Funhouse. A villainous twist on the classic walk-through carnival attraction featuring Batman's biggest foes.
3. Cartoon Junction
The land where Warner Bros.' most iconic characters and animated worlds can be discovered. Highlights include:
Ani-Mayhem. An interactive dark ride where passengers use barcode scanners to deliver ACME packages and accumulate the most points to become ACME Employee of the Month!
Tom and Jerry Swiss Cheese Spin. A family‐friendly spinning Twister Coaster from Zamperla featuring added blacklight effects.
Scooby-Doo: The Museum of Mysteries. Dark ride that follows the comical cartoon dog through a spooky museum filled with fun and frights.
Cartoon Junction Carousel. A colourful twist on an amusement classic featuring Looney Tunes and Hanna-Barbera characters.
Daffy Jet-Propelled Pogo Stick. A 'jump' tower that bounces young riders up and down with Daffy Duck.
Tweety Wild Wockets. Here kids can spin "awound and awound" as they try to avoid Sylvester the cat on this mini jet ride by Zamperla.
Ricochet Racin' with Taz. A giggle-inducing children's car ride (Zamperla Speedway) that whips racers around the track.
Meet Bugs! (And Daffy). A participatory live character show experience featuring Bugs Bunny and friends.
4. Metropolis
The Manhattan-like skyscraper city mixes 1930s Streamline Modern styling with 21st Century state-of-the-art materials. Rides and attractions as follows:
Superman 360: Battle for Metropolis. A 360-degree action spectacular that pits the greatest comic book hero of all time against the Man of Steel.
Justice League: Warworld Attacks. Dark ride featuring immersive theatre experience and special effects.
Green Lantern: Galactic Odyssey. 86-seat i-Ride flying theatre by Brogent Technologies that transports guests across to extraordinary worlds. Enriched with special and visual effects, including 3D.
Teen Titans Training Academy. A multi-level play area featuring a zipline and other physical activities.
5. Dynamite Gulch
An animated storyland where guests will encounter Wile E Coyote and Road Runner. Experiences include:
Fast & Furry-ous. Suspended Family Coaster by Intamin. Passengers climb onto the ACME Road Rocket 9000 for an exciting journey through the desert cacti and chasms in pursuit of Road Runner. Beep! Beep!
Jetson's Cosmic Orbiter. An Aero Top Jet by Zamperla where guests can pilot their own futuristic spaceship.
Marvin the Martian: Crater Crashers. Bumper cars, supplied by Zamperla.
6. Bedrock
Yabba-Dabba-Doo! This age-old land powered by birds and dinosaurs is home to The Flintstones. Here guests will find:
The Flintstones Bedrock River Adventure. This Intamin flume ride invites passengers to embark on a scenic boat ride …with a big splash finale!
Bronto Burgers and Ribs. Here guests can dine in prehistoric cars, or just stop for a photo opportunity and eat inside the diner.
Bedrock Boutique. Selling everything the modern stone-age family could need!
Related Posts
New National Museum Designed and Produced by Thinkwell Is Dedicated...